Embroidered panel in coloured silks and gold thread depicting the Red Crosse knight ( St George) riding with Una in a landscape, with legend 'Thus they fared forth upon the dreadfil quest', by Phoebe Anna Traquair, dated 1907

©National Museums Scotland
Embroidered panel in coloured silks and gold thread depicting St George slaying the Dragon in a landscape setting, with Una kneeling in prayer in the background, by Phoebe Anna Traquair, early 20th century

©National Museums Scotland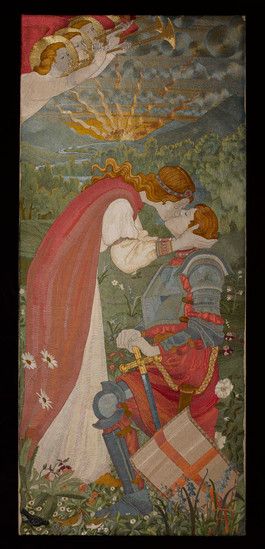 Embroidered panel in coloured silks and gold thread depicting St George in armour being kissed by Una in a landscape setting, probably representing Eden, by Phoebe Anna Traquair with her daughter, Hilda Traquair, dated 1914

©National Museums Scotland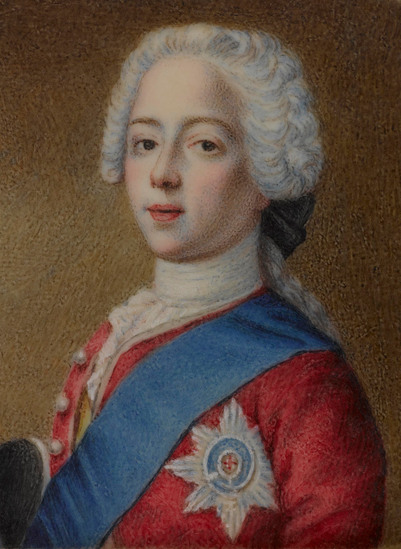 One of a collection of Jacobite relics amassed by Sir John Hynde Cotton and his descendants - a rectangular miniature, watercolour on bone, of Princes Charles Edward and Henry Benedict Stuart. (Cropped to portrait of Prince Charles Edward).
©National Museums Scotland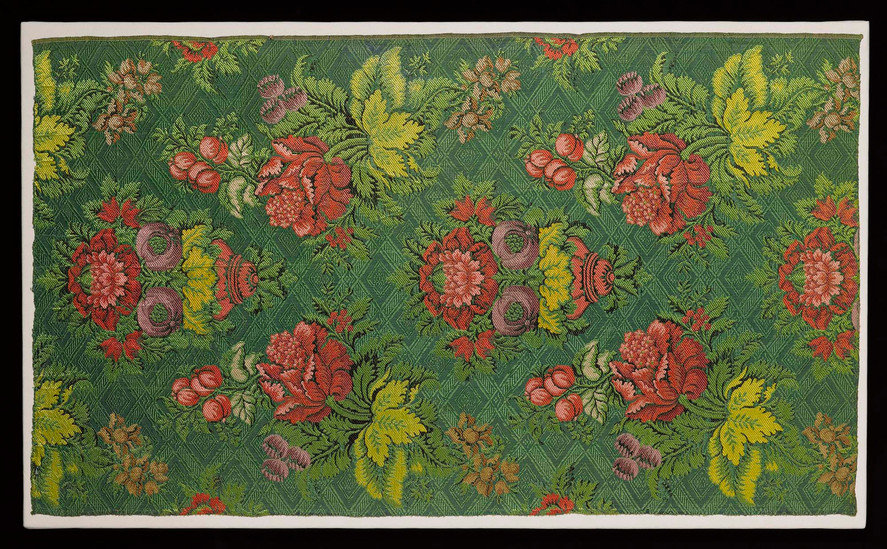 Length of silk with a green diaper ground and brocaded with a mirror repreat design of large naturalistic flowers and fruit in shades of red, purple and yellow: possibly designed by Jean Revel, French, probably Lyons, c. 1730 - 1733 ©National Museums Scotland
Woman's scarf of mid blue-grey twilled silk, screen-printed with a design in white called Four leaves Cut-Out: British, designed by Henry Matisse for Zika Ascher of Ascher Silks, late 1940s. ©National Museums Scotland
Wool tweed, part of a group of samples compiled by Bernat Klein for his own records.

©National Museums Scotland